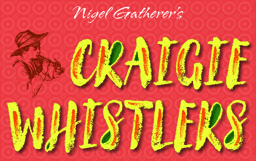 Craigie Whistlers Lower Intermediate Whistle
Continue to learn to play the penny whistle in a friendly, fun group. You should have a penny whistle in the key of D, available from any music shop. You will expand on the basics of playing the whistle, and build up a repertoire of tunes.
Booking

Through Community Education at Craigroyston Community School (email them), tel 0131 538 7285, or just turn up at the class and we'll get you sorted. The next term begins on Thursday 27th September 2018.
---
Term A (September - December 2018)
Date
Tunes
Downloads
Download all Term A's tunes in one PDF file: [WHI] [STD]
27/9 A1
Pulling Bracken
[WHI] [STD] [MP3]
4/10 A2
The Barren Rocks of Aden
[WHI] [STD] [MP3]
11/10 A3
Norwegian Wood
Ob-la-Di Ob-la-Da
[WHI] [STD] [MP3]
[WHI] [STD] [MP3]
18/10 XX
Mid-Term - no class
25/10 A4
Spancil Hill
[WHI] [STD] [MP3]
1/11 A5
Cam Ye By Athol
[WHI] [STD] [MP3]
8/11 A6
Hynd's Wee Cabin
[WHI] [STD] [MP3]
15/11 A7
The Rovin' Ploughboy
[WHI] [STD] [MP3]
22/11 A8
Mull of Kintyre
[WHI] [STD] [MP3]
29/11 A9
The Auld Hoose
[WHI] [STD] [MP3]
6/12 A10
End-of-term party: bring a tune/song/joke/trick !