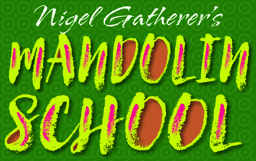 Name:
Beginners Mandolin
Location:
Suspended
Day:
Tuesdays
Time:
Suspended
Last update:
21st Aug 2020 11.30am
NGMS Beginners Mandolin
Classes Update

Class name: Beginners Mandolin

Classes at Holy Corner (Nigel Gatherer's Mandolin School) have been suspended until at least January I'll be conducting classes online. However, during the first few weeks of an absolute beginners mandolin class, tuning plays a big part. This is not possible in an online situation, so the Beginners Mandolin class will not run. I hope that when classes resume in the new year, I'll be able to start a new Beginners class.

If you can tune your instrument yourself, and have noodled about for a little while, you may consider joing the Lower Intermediate Class. If you want to discuss anything with me, send me an email (nigelgatherer@mac.com).



This is an adult evening class in Beginners Mandolin. Whether participants have played before or not, I will be treating everyone as if they're picking up an instrument for the first time; it's the only way to be fair to all class members.
During the course we'll be learning the techniques necessary to playing the mandolin, building up a repertoire of tunes, and learning about mandolin music from around the world.
---