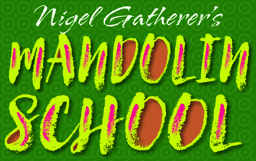 NGMS-Online Lower Intermediate Mandolin
Classes at Holy Corner (Nigel Gatherer's Mandolin School) have been suspended until further notice, but I'll be conducting the class online - see below for details on how to join. This is an adult evening class in Improvers/Lower Intermediate Mandolin. Participants should know the basics of the mandolin and have been learning for at least a year.
During the course we'll be further developing the techniques necessary to playing the mandolin, increasing our repertoire of tunes, and learning about mandolin music from around the world.
---
Booking

Priority will be given to existing class members, but if there are any spaces and you think you'd like to join the online class, let me know (email me.)
---
---
Class Fees
The current situation has affected everybody in different ways, so I have come up with a range of fees which will hopefully suit everyone. No one will be judged on their choice, so don't let that worry you.
1) Full NGMS Rate

There is no obligation for anyone to do so, but some people have asked if they could pay the full term rate (8 weeks at £7 per class). Use this button if you're one.

2) Flat Rate

A flat rate of £5.00 per class. If you're joining in the middle of term, select the number of classes left in the term .

3) Situational Rate

If you have been affected by the crisis - if you're self-employed and can't work, for example - I don't want you to be left out. Pay any nominal fee, no questions (even if it's zero).
---
Attending the Class

In order to participate, you need the Zoom app. When it's time for the workshop, by clicking the "Join Session" button on the right, you will be asked if you wish to download Zoom. Agree (it's free and quick to download).

Alternatively, download the app (Zoom Client App for Meetings) in advance:

and you can enter the Meeting ID and Password manually.

Enable your audio and video:

Change


to




and you'll be ready to start. Most of the time I'll switch everyone's microphone off and you'll only hear me, but every so often I'll switch individuals on and ask how they're doing.
Meeting ID:
995 4401 5757
Password:
592681
Day:
Tuesdays
Time:
10.25-11.15am