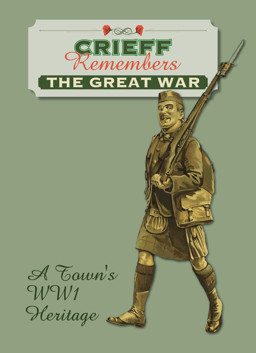 Crieff Remembers the Great War
Crieff Remembers the Great War has been written by the people of Crieff and Strathearn who have contributed to the Crieff Remembers Exhibition held in Crieff during July and August 2017. The story it tells has one constant theme: the dreadfulness of war, and the particular dreadfulness of the First World War- the Great War, the War that was supposed to end all war. A hundred years on, our memories are still raw, and the roll call- Loos, the Somme, Beaumont Hamel, Gallipoli, Arras, Passchendaele- still evokes images of slaughter, inhumanity, sacrifice and waste. There is plenty of all these in the story we tell here, and yet - and yet. Beyond the mud and the squalor, the waste and the sorrow, we find bright hope, amazing courage, endurance, kindness, humour and love.

The men and women who are remembered in this book come from both sides of the conflict and from all classes. They have much in common, most strikingly the fact that they are still remembered, often by a generation that never knew them. Our exhibits range from the ephemera of embroidered postcards and trench art souvenirs to documents and records of historic importance. In between, are medals- including two Military Crosses, several Military Medals and two Iron Crosses- photographs, letters, and diaries, all unique in their way, as well as oddities such as the Christmas greeting sent home from Gallipoli, written on the pocket of Private Rodger Brodie's service tunic. Sometimes we tell complete stories. Sometimes all we have are intimate snippets of family recollection. In all their variety, the Exhibition and its record make a major contribution to the story of Strathearn and allow us to build a bridge across the huge divide between the centuries.

The book is dedicated to the memory of all who served, and all whose lives have been touched by war.