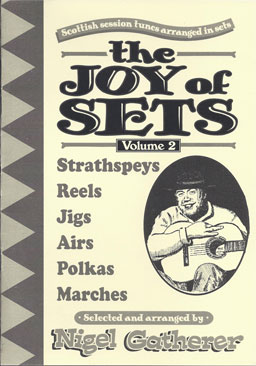 The Joy of Sets Vol.2
Another book of tunes suitable for sessions or ensembles, this fine collection has some standards and some not so well known tunes which should please learners and experienced musicians alike.
The tunes were learned from sessions or recordings, and includes notes on the sources and backgrounds of the selections. The book is small enough to fit into a fiddle or mandolin case, and has a useful index on the back. Clear standard notation for any instrument, with guitar chords for every selection.
A companion CD is planned, and details will appear here when it is ready.
---
Contents:
Johnny McIljohn's No.1 I first learned this Irish reel from a Boys of the Lough record. They got it from Tommy Maguire of Leitrim, whose father, John Maguire, was known as 'Johnny McIljohn' for some reason. He 'lilted' the tunes regularly at country house ceilidhs so his name became associated with the tunes. It seems to be a variant of The Silver Spear.
Johnny McIljohn's No.2 See notes for Johnny McIljohn's No.1.
Far From Home was collected by Captain Francis O'Neill in the 1870s in California. Although many think of the tune as being from Shetland or Scotland (sometimes it has even been called Far Frae Hame), there's no evidence for it, apart from the fact that it sounds like a Shetland reel.
Staten Island was originally called Burns Hornpipe and was first published in Glasgow in about 1780. There are Staten Islands in the Arctic and off the coast of Argentina, as well as the more famous one in New York. In Donegal the tune is known as The Arranmore Ferry.
Jenny Nettles is an old Scottish tune first appearing in written form in the early 17th century.
Lord Randall's Bride I got this tune from a 78rpm record by Adam Rennie.
Eight Men of Moidart is from the playing of Bert Shorthouse. The title refers to an incident when Bonnie Prince Charlie landed in Moidart in 1745; seven fishermen observed him arrived and performed a dance in the sand with glee. They were one man short for the eightsome dance, so they used a spade stuck in the sand for the eighth.
Snouts and Ears is as played by the great accordionist Jimmy Blue.
The Old Polka comes from Orkney, and I play it with Orcadian accordionist Jack Yorston. I first heard it on a record of Orcadian fiddle music.
Highland Polka is from Kerr's Merry Melodies (c.1880), and has been slightly changed by me.
Angus Polka No.1 I think this originated with The Cameron Men, a family of fiddlers from the county of Angus who recorded in the early 1930s. It was also recorded by Jim Cameron in the 1940s (from which I've based this version), and more recently by Andy DeJarlis and the Boys of the Lough. Other names for this lovely polka have been Cameron Men's Polka No.1, Traditional Polka and Countryside Polka.
Calum Beg (or Beag) is from the playing of the Foundry Bar Band.
The Shetland Fiddler is a popular session tune, and evolved from The Hawk hornpipe composed by prolific and celebrated Tyneside fiddler James Hill (Scots-born).
Hey Ho My Bonnie Lass is from the playing of Iain MacPhail.
Da Ferry Reel comes from the island of Yell, and the story goes that a fiddler was coming home from a wedding and had a rest. He heard the sounds of music and dancing coming from a hole in the ground and listened until he had learnt the tune. 'Ferry' translates here as 'fairy'.
Lay Dee At Dee According to Tom Anderson, seamen would come ashore and sleep in a stone house called a lodge where there would only be one bed for everyone to share. If someone took up too much room, he'd be told "Lay dee at dee, boy!" roughly translated as "keep to yourself."
Miss Spence's Reel Tom Anderson wrote that Miss Spence's Reel was composed in 1759 by John Anderson of Voe. He was playing at a dance, and there were so many Spence lasses that he named the tune Miss Spence's Reel.
Far O'er Struy is a retreat march, a form of bagpipe tune usually in 3/4 time popular with fiddlers too. 'Struay' is a hill-road above the Dornoch Firth, near Inverness.
McEwan's Barn I learned McEwan's Barn from the playing of well known button accordionist Fergie MacDonald. Anna Shepherd recently told me it's also known as I Bhi Ada.
Highland Skip The tune I know as Highland Skip is more widely known in Ireland as The Boyne Hunt (other names it goes under include Molly McGuire, Neil Gow's Reel, Tom the Blacksmith, etc), but in fact it's a variant of what was originally a Scottish tune called The Perthshire Hunt, commissioned for the Perthshire Hunt Ball. I think I originally got the tune from 'Ryan's Mammoth Collection'.
The Piper's Cave was composed by someone called Sutherland and was recorded in 1949 by Jim Cameron and his Band.
Teribus is the town tune of Hawick.
Short Cut to the Pub is an Irish polka version of the Scottish pipe march Campbell's Farewell to Redcastle and is also known as Joe Bane's.
The Banks of the Allan was first published in Scotland in about 1798. There is an Irish variant called The Tailor's Thimble.
Peggy's Jig I first knew Peggy's Jig as Cape Breton Jig No.2, and it was only recently that I found out its real name. I think it was composed by the late Cape Breton fiddler Mike MacDougal, who is best known for his Memories of Father Angus MacDonnell.
A Scarce o' Tatties - When a friend of piper Norman MacLean's complained about the quality of potatoes in London, a new tune was born. In Gaelic the title is Cion A' Bhuntàta.
Logan Water is an old tune, traced back to the 1680s as the tune for various broadside ballads. This version is taken from the playing of Aly Bain and Phil Cunningham on The Ruby CD.
The Haughs of Cromdale is probably named after the 17th century battle of the same name; the 'haughs' are low-lying ground along a river (in this case the river Cromdale). Among other names for this are Barrack Hill, Lady Catherine Stewart, Merry Maid's Wedding, New Killiecrankie, The Spilling of the Kale, and Tralee Gaol.
Sweet Molly has also been called Hopetoun House, Polly's Reel, The Ranting Widow, Cock Your Pistol Charlie, and in Ireland The Youngest Daughter. It's good old-fashioned reel - enjoy playing it!
Lochaber No More There are versions of this tune called King James March to Ireland dating from the 17th century. It is known in Ireland as Limerick's Lament. It was the poet Allan Ramsay who in 1724 set the words 'Lochaber No More', about an enlisted Highlander's nostalgia:
"Farewell to Lochaber, farewell to my Jean
Where heartsome wi' her I ha'e many days been
For Lochaber no more, we'll maybe return
We'll maybe return to Lochaber no more."
My version of the tune came from a record, but I can't remember which.