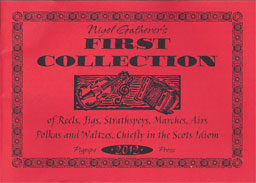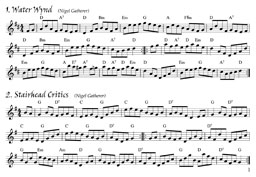 Nigel Gatherer's First Collection of Tunes
Nigel Gatherer has always composed music, and some of his tunes have been played in sessions, recorded on CDs and used in teaching purposes. In response to many requests, he has now compiled many of these tunes into a new publication, the grandly named Nigel Gatherer's First Collection of Reels, Jigs, Strathspeys, Marches, Airs, Polkas and Waltzes. His understanding and love of the idiom has meant that Nigel's tunes fit very much into the tradition.
For more information about the tunes in the book, click here.
---
Contents:

Air for America
Air for Linda
Alan Shute's Jig
Alison & Iwan's Wedding Waltz
Alligan Burn
Anna-Wendy's Jig
Auchindrain
Ballintra House
Bass Rock Hermit
Bill & Morag's Waltz
Braid Burn Waltz
Cas-Chrom, The
Compliments to Finlay Allison
Cowan Road
Crowe's Nest
Crown At Portpatrick
East Parkside
Gorgie Farm
Innerpeffray Chapel

John Carmichael's Welcome
Johnny Cradden's Reel
Jonesy's Jig
June's Reel
Knock, The
Lewis's Air
London's Big
Morag Turner's Reel
My Beautiful Mandolin Friend
Nuala's Jig
Rusty Nail
Sandy Gatherer's Jig
Seonaid Lynn's Reel
Soggy Path, The
Stairhead Critics
Water Wynd
Weaver, The
Wistfulness