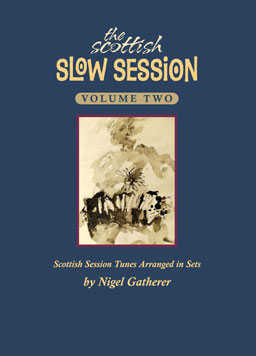 The Scottish Slow Session Vol.2
THE SLOW SESSION SERIES of books has been designed to provide suggestions for tunes which might be played at Scottish sessions. They came about out of a series of slow sessions I ran in various locations, but the tunes are suitable at any tempo, slower or faster. They are presented in sets of two or three tunes (except for airs etc) with guitar chords, introductions and some background information on the tunes, and suggestions on how to start your own session.
The SCOTTISH SLOW SESSION Vol.2 features mostly tunes which I have heard in various sessions around Scotland. Any list of session tunes will have people agreeing with some, and disagreeing with others. At the end of the day, in my opinion, they're all good tunes and worth having. The book is also available as a digital download (for tablets, etc) and a digital mandolin tab version.
Aandowin' at da Bow
Cameron's Got his Wife
Cailin Mo Ruin-Sa
Campbell's Farewell
Corriechoillie
Denis Murphy's Polka
Dingle Regatta
Fairy Dance
Faroe Rum
Flooers o' Edinburgh
Forefit o' da Ship
Freedom Come-All-Ye
Happy We've Been
Haste to the Wedding
Headlands
High Road to Linton
Highland Whisky
John Ryan's Polka
Jumping Geordie
Leaving Stornoway
Lilting Banshee
Liverpool Hornpipe
Loch Ruan
Lochiel's Welcome
Music o' Spey
Off to California
Pulling Bracken
Reel of Tullochgorum
Rowan Tree
Salmon Tails Up the Water
Shepherd's Wife
Staten Island
Stool of Repentance
Thistle of Scotland
Uist Tramping Song
Wee Murdie
Wind That Shakes the Barley