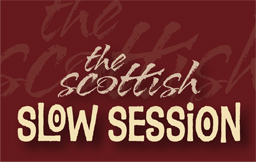 Last update: 1st March 2021
The Scottish Slow Session
THE SCOTTISH SLOW SESSION is a project aimed at helping people play music together, whether in a pub session, a home group or at a one-off event. Sessions can be hostile, unfriendly places, but they can also be wonderful environments in which to play great music with other people. A "slow session" is aimed at people with little or no experience of the session; an "entry-level" session if you like. It should be encouraging, forgiving, supportive and fun. Tunes are usually played at a slower tempo than normal (to give everyone a chance to join in) and, unlike a full-pelt session, reading music notation from books or sheets is tolerated.
In the Slow Session Project, I'm aiming to provide advice and resources for those interested in starting or playing in a session. I have a suggested repertoire of tunes which would go down well in sessions. The tunes are in sets, and have introductions marked for ease of starting. Many are available free to download and print, or they're available in attractive books which can be purchased. A collection of soundfiles is being compiled to aid the learning of tunes, and advice on how to start a session and how to behave at sessions is being prepared.
Nothing would please me more than to hear of people being inspired to play music with others. Let me know of your successes, failures, ambitions and fears. Any feedback, suggestions and criticism is welcome (email me).
---