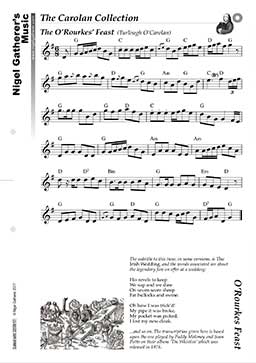 This tune is part of the following collections:




The subtitle to this tune, in some versions, is The Irish Wedding, and the words associated are about the legendary fare on offer at a wedding:
His revels to keep
We sup and we dine
On seven score sheep
Fat bullocks and swine.

Oh how I was trick'd!
My pipe it was broke,
My pocket was picked,
I lost my new cloak.


...and so on. The transcription given here is based upon the one played by Paddy Moloney and Sean Potts on their album Tin Whistles which was released in 1974.


---
This tune is part of my Carolan Collection of tunes; for others, check out the Composers Collection Index.