Whistle Tutorial - Lesson 10.1
Irish Reels
This is quite a tricky tune, but there are ways to make it easier. During the whole of the first bar and half of the next, keep the first and second fingers of your right hand fixed on the fourth and fifth holes on the whistle. This reduces the amount of finger-lifting you have to do. Do the same for the first bar in the B part so that your C sharp, normally played

O
O
O
O
O
X


is played here


O
O
O
X
X
O

This makes playing the next note - the high E - much easier.

When I play Drowsy Maggie, I don't play the last note of bar three in the A part (low E). This gives me time to prepare to play the fourth bar, and a chance to have a breath if necessary. Try it: you may find it an easier way to play the tune.

This tune is also available as a [MIDI file] or an [ABC file].
---
Drowsy Maggie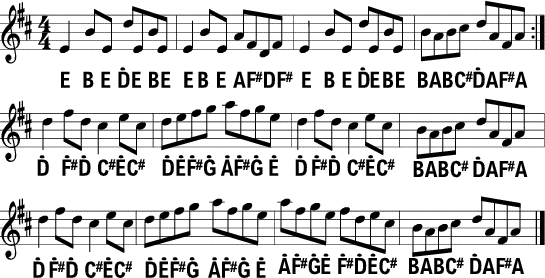 ---