Ryan's Polka

Back to:
Tutorial Index
Whistle Tutorial - Lesson 12.1
Irish Polkas
Irish polkas are attractive because they're usually simple tunes with a nice melody. They're in 2/4 timing, the same as many Scottish bagpipe marches. In fact, many pipe marches have been imported to Ireland and turned into polkas; one example is The Barren Rocks of Aden. For a brief history and description of Irish polkas, go to [page 3].
Ryan's Polka is a popular Irish tune and can often be heard at sessions all over the world. On the whistle it's often tricky to switch between octaves, especially if there a lot of C shaps in the tune. With Ryan's, - rather like we did with Drowsy Maggie - the trick is to leave certain fingers down. In the first bar, you can leave all your right-hand fingers on the lower three holes without it affecting the notes, so that the B and C sharp notes are played like this:
This tune is also available as a [MIDI file] or an [ABC file].
---
Ryan's Polka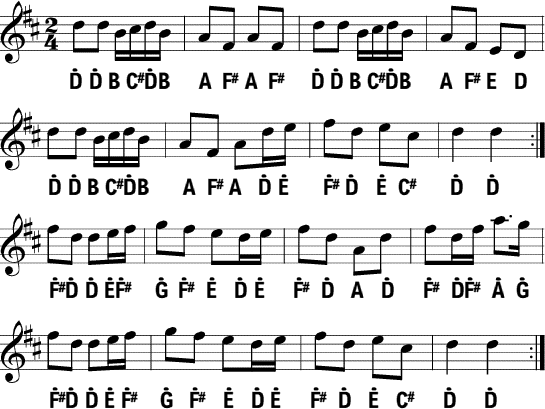 ---