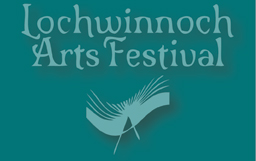 Lochwinnoch Arts Festival 2017
This year I'm running two workshops at the 2017 Lochwinnoch Arts Festival. Booking is through the festival (visit their web site for further details). Alternatively, you can book a place by phoning 07868 752814.
---
• Come and Try Penny Whistle
McKillop Hall, Lochwinnoch, 10am-12noon
Everyone in this workshop will be treated as though they are picking up an instrument for the first time, at least to begin with. We'll patiently learn the basics of penny whistle: holding it, covering the holes, making a noise, etc. We'll also be learning a couple of simple tunes. You don't need any experience, or to be able to read music. Oh, and we're going to have a lot of fun, too! I'll be bringing lots of whistles, so you don't even need an instrument. Cost of this workshop is £3.00.
---
• The Lochwinnies Mixed Instrument Workshop
McKillop Hall, Lochwinnoch, 1.00-3.00pm
Open to all instruments (but if you play smallpipes, you should have another instrument such as whistle just in case). The music will be available in advance, and if you require any specific notation (e.g. fiddle fingering, tablature) let me know. Similarly, any questions or concerns, get in touch (email me).
---
Music:
Music can be accessed through the links below. If you need any other forms of notation, please let me know.
| | |
| --- | --- |
| | Tunes for the Workshop |
| 1 | Wren Polka No.1 MP3 |
| 2 | The Black Cocks of Burriedale MP3 |
| 2 | The Tappit Hen MP3 |
---
Location

McKillop Institute
Main St
Lochwinnoch
PA12 4AJ
---