THE POLKA WAS INTRODUCED into the ballrooms of France and England in 1843. The Times of London described it as embracing the "intimacy of the waltz combined with the vivacity of the Irish jig". Polka, from the bohemian word pulka, which means half, refers to the little half step or close-step that is characteristic of this dance.
I don't think the polka as a dance had any lasting effect in Scotland, although the schottische, which has lasted, is a form of polka. The Irish polka is almost a different animal; it has developed into a dance and tune form peculiar to Ireland, and Irish polkas - the tunes - have become a popular part of repertoires all over the world. In the Sliabh Luachra area of Kerry in the south-west of Ireland, the polka is the predominant dance tune, unlike the rest of Ireland where the reel reigns supreme. In fact, the reel in Kerry ranks a poor fifth in poularity after polkas, jigs, slides and hornpipes.
Denis Murphy was an Irish fiddler from Sliabh Luachra. Both Denis and his sister, Julia Clifford, are regarded as archetypal Kerry musicians, and were taught by the legendary Padraig O'Keefe. There are a few tunes given Denis's name after the way he played them.
Other Irish polkas: Egan's Polka O'Connor's Polka Peggy Ryan's Polka.
Try these Shetland polkas in a similar style: Da Boannie Polka & Sister Jean.
Pick direction symbols: the upside down "V" is an upstroke.
Back to: Mixed Instrument >> Wednesday Slow Session >> Repertoire
Back to: The Scottish Whistle >> Whistle Tutorials >> Lesson 12.3.

---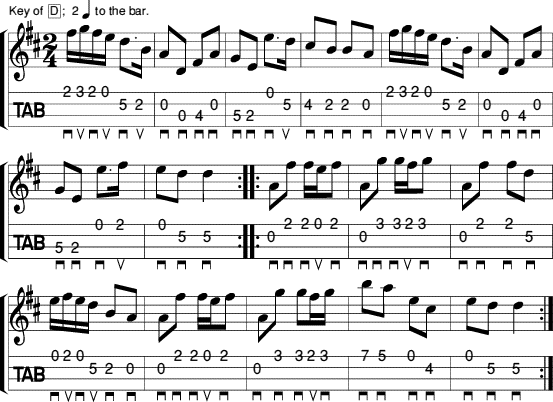 ---