This Irish reel is especially associated with Donegal. It is supposed to have origins in faerie folklore. The fairies were trying to abduct a bride at a wedding by trying to trick her into uttering magic words which would bind her to them. In the rafters was her ex-suitor, who shook down some snuff upon her. The bride breathed it in, sneezed, and was greeted with a polite chorus of "God bless you" from the wedding party. The fairies took flight. The tune the fiddlers were playing at the time was dubbed The Pinch of Snuff.
I learned the tune from Ulsterman Johnny Cradden, and I've always regarded as a fun or novelty tune, always guaranteed to raise at least a smile. The tune is actually fairly simple - a lot simpler than it sounds), and all that happens is that the tune is repeatedly played in different keys, each one higher than the previous one (we move from D to G to A to D again). The ninth part is significantly different from all the others, and takes us back down to a point where the whole thing can start again. If you're not careful, you could be playing all night!
The first four parts are below, the following five parts here.
Back to The Scottish Mandolin >> Intermediate Mandolin Class
---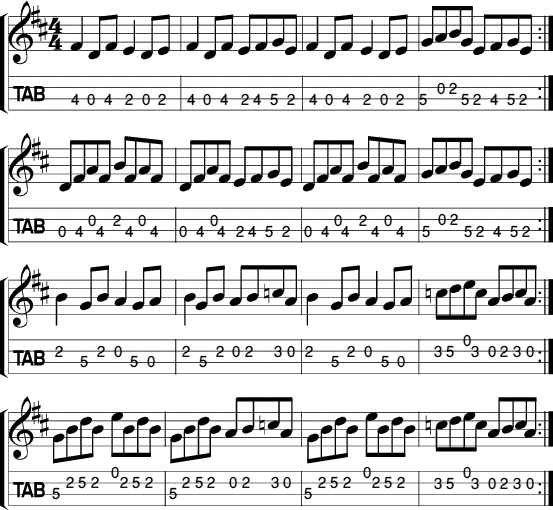 ---
Pinch of Snuff continued...