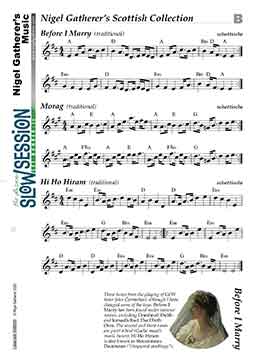 This set is part of the following collections:




Three tunes from the playing of GFW tutor John Carmichael, although I have changed some of the keys.
Before I Marry has been found under various names, including Domhnall Dubh and Iomadh Rud Tha Dhith Orm. The second and third tunes are puirt a beul (Gaelic mouth music tunes). Hi Ho Hiram is also known as Stocainnean Daoimean ("chequered stockings").

---
This set and other tunes played at Scottish Sessions can be found in The Glasgow Slow Session Volume 2, available from my Online Store.