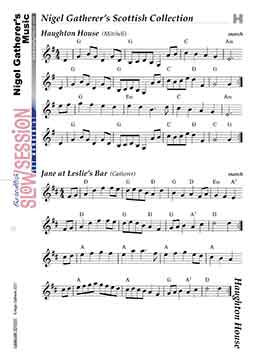 This set is part of the following collections:




This tune was the subject of considerable discussion on the internet a few years ago. For some reason it was being played in various locations around Ireland and Cape Breton as Auchadon House, but nobody could trace the tune other than from a recording by Joe Ryan. Then someone found it on an LP of Shetland fiddling and surmised it was of Shetland origin. I finally found an old single printed sheet in Perth of a tune called Haughton House by a James Mitchell, arranged by (and variations added by) James Scott Skinner. The tune was recorded by The Boys of the Lough.
I composed the second tune specially to fit in with Haughton House, and named it after two of my favourite things: Leslie's Bar in Edinburgh, where I have run a session for years, and one of the session participants, Jane Culpan.
---
Haughton House and other tunes played at Scottish Sessions can be found in The Scottish Slow Session Volume 4, available from my Online Store.