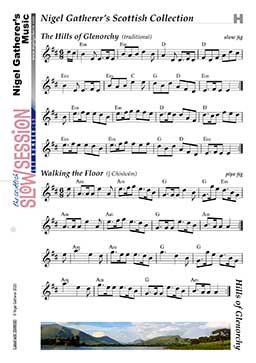 This set is part of the following collections:




The Hills of Glenorchy is a pipe jig, but very often these days it is played as a slow tune. It derives from a tune called The Braes of Glenorchy composed by Alexander Mackay (born c 1775), and is found in Ireland as The Jolly Corkonian.
Walking the Floor was composed by Pipe Major Jack Chisholm while trying to put his infant son to sleep.
---
This set and other tunes played at Scottish Sessions can be found in The Scottish Slow Session Volume 4, available from my Online Store.