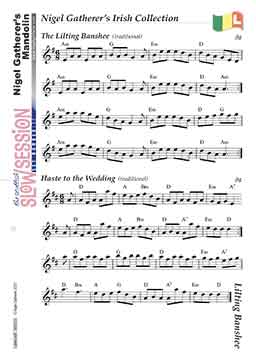 This set is part of the following collections:




Music
Two old Irish jigs. The Lilting Banshee is known under many different names, including Ryan's Favourite, Ballinasloe Fair, Bobby Casey's, The Glanmire Miller, Paddy In London and The Rookery.
Haste to the Wedding was once better known as Rural Felicity, and was first published in Scotland in the 1750s.
---
This set and other tunes played at Scottish Sessions can be found in The Scottish Slow Session Volume 2, available from my Online Store.