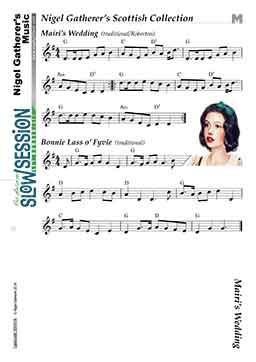 This set is part of the following collections:


Music
Mairi's Wedding, or The Lewis Bridal Song was oublished in 1950 in an influential collection called "Songs of the Isles" by Hugh S Roberton (1874-1952). Somgs from that book which became standards include Mingulay Boat Song, Westering Home and Uist Tramping Song.
The Bonnie Lass o' Fyvie is a popular Scottish folksong which has been recorded by the likes of The Grateful Dead, Bob Dylan and Simon & Garfunkle.
---
This set and other tunes played at Scottish Sessions can be found in The Glasgow Slow Session Volume 1, available from my Online Store.