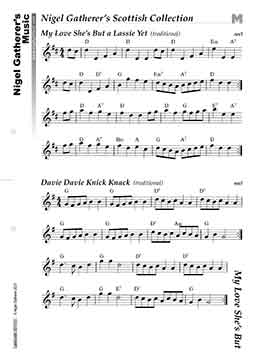 This set is part of the following collections:


Two standard Scottish dance tunes. The first tune was published in Bremner's Reels (1757) as Miss Farquharson's Reel, but it's more usually named for the song which Burns wrote to that tune, My Love She's But a Lassie Yet.
The second tune is older than it seems, being found in older Scots and English collections as Major Duff's Favourite Quickstep and Major Crichton's Delight. It's exclusively known as Davie Davie Knick Knack these days. The name was a mystery, but then I found out that there used to be a children's game for choosing "het" called "kneevie kneevie knick knack". "Kneive" is an old Scottish word for a fist, so imagine it was similar to "one potato two potato".
---