Nigel Gatherer's Music
---

I'm doing a number of online sessions, many of which are free and open to everyone. I also have slots for one-to-one lessons, or private group sessions. Further details on the NGOLMS page.
---
• NEW BOOK •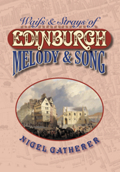 Hot off the press is the first of a new series of books of music and song from various locals. The introductory volume is all about Edinburgh, her places, her history, her characters. In the book you'll find the story of Daft Jamie, one of Burke & Hare's final victims; Colonel Robert A Smith, the young Edinburgh man who fought in the American Civil War; the dandy of Princes Street; the lassies o' the Canongate, the Lads o' Leith, and the Loyal Edinburgh Spearmen.

• NEWS •
Two slow sessions coming up this week: GFW Slow Session on Monday, SMG Slow Session on Wednesday.
I'm working on some mandolin-specific workshops, so watch this space.
Feel free to request any workshops which you think may be of interest.