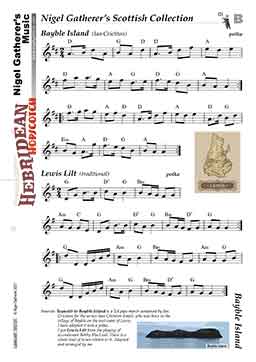 This set is part of the following collections:




Bayble Island was originally called Taynuilt to Bayble Island, a 2/4 pipe march composed by Ian Crichton for the writer Iain Crichton Smith, who was born in the village of Bayble on the east coast of Lewis. I have adapted it into a polka.
I got Lewis Lilt from the playing of accordionist Bobby MacLeod. There is a whole load of tunes related to it, including Buain nan Dearcan Ris an Spreidh ("Plucking Berries By the Fold"), My Aunt Jane (from The Tap Room Trio), I Won't Marry Her (from Johnny O'Leary of Sliabh Luachra) and The Wren Polka (from the Boys of the Lough). Adapted and arranged by me.
---