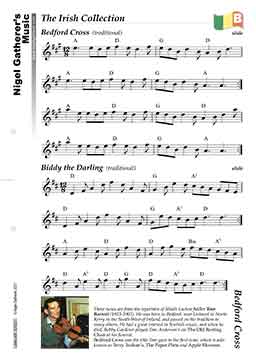 This set is part of the following collections:


These tunes are from the repertoire of Sliabh Luchra fiddler Tom Barrett (1923-2002). He was born in Bedford, near Listowel in North Kerry in the South-West of Ireland, and passed on the tradition to many others. He had a great interest in Scottish music, and when he died, Bobby Gardiner played Tom Anderson's air The Old Resting Chair at his funeral.
Bedford Cross was the title Tom gave to the first tune, which is aslo known as Terry Teahan's, The Paper Plate and Apple Blossom.