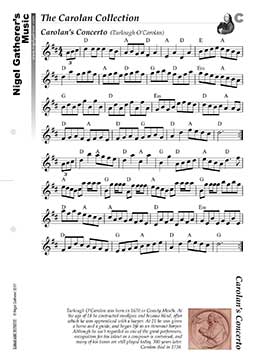 This tune is part of the following collections:




Turlough O'Carolan was born in 1670 in County Meath. At the age of 18 he contracted smallpox and became blind, after which he was apprenticed with a harper. At 21 he was given a horse and a guide, and began life as an itinerant harper. Although he isn't regarded as one of the great performers, recognition for his talent as a composer is universal, and many of his tunes are still played today, 300 years later. Carolan died in 1738.

---
This tune is part of my Carolan Collection of tunes; for others, check out the Composers Collection Index.