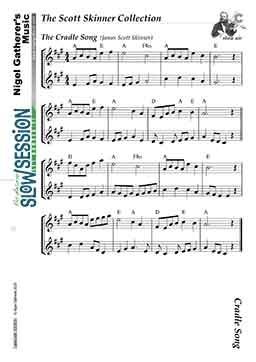 This tune is part of the following collections:






Music
The Cradle Song
The Cradle Song
with
The Piper's Weird
The Cradle Song is a very popular air amongst Scottish fiddlers. The Piper's Weird was published in Skinner's Harp and Claymore collection (1903), where he described it as a "pibroch". The lyrics, written by W McCombie Smith, refer to the Macrimmon family of pipers, and in this context, "the piper's weird" means the piper's fate.

---
This set is part of my James Scott Skinner Collection of tunes; for others, check out the Composers Index.