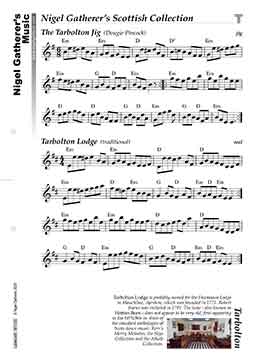 This set is part of the following collections:




The Tarbolton Jig is Dougie Pincock's resetting of Tarbolton Lodge as a jig, and it was recorded by The Battlefield Band on their 1985 album Music in Trust Vol.2.
Tarbolton Lodge is probably named for the Freemason Lodge in Mauchline, Ayrshire, which was founded in 1771. Robert Burns was initiated in 1781. The tune - also known as Hatton Burn - does not appear to be very old, first appearing in the 1870/80s in three of the standard anthologies of Scots dance music: Kerr's Merry Melodies, the Skye Collection and the Athole Collection.