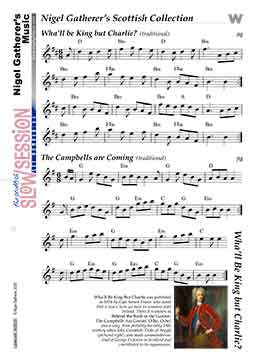 This set is part of the following collections:




Wha'll Be King But Charlie was published in 1816 by Capt Simon Fraser, who noted that it was a tune we have in common with Ireland. There it is known as Behind the Bush in the Garden.
The Campbells Are Comin' O-ho, O-ho! was a song from probably the early 18th century when John Campbell, Duke of Argyle, was made commander-in-chief of George I's forces in Scotland and contributed to its suppression.
---
This set is part of my Scottish Collection of tunes; for others, check out the Scottish Collection Index