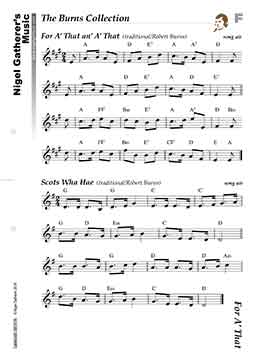 This set is part of the following collections:




Two very popular songs from Burns. In January 1795, the bard wrote to his publisher Mr Thomson, saying of For A' That, an' A' That, "A great critic on songs, says that love and wine are the exclusive themes for song-writing. The following is on neither subject, and consequently is no song, but will be allowed, I think..."
The tune known as Scots Wha Hae is properly titled Bruce's Address to his Army at Bannockburn. The air is an old Scots tune called Hey, Tuttie, Tattie said, by some, to be Bruce's march at the actual battle.
---