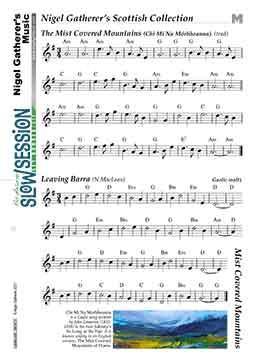 This set is part of the following collections:






Chi Mi Na Morbheanna is a Gaelic song written by John Cameron (1822-1898) to the tune Johnny's So Long at the Fair. It is known widely in its English version, The Mist Covered Mountains of Home, and another song called Hush, Hush.
Leaving Barra is a favourite tune of GFW tutor Katherine MacLeod. It's available in other sets, with Cailin Mo Ruin Sa, and with The Fair Maid of Barra.
---
This set and other tunes played at Scottish Sessions can be found in The Glasgow Slow Session Volume 1, available from my Online Store.