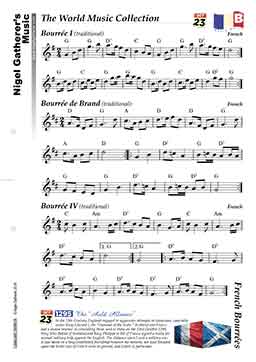 This set is part of the following collections:




Music
In the 13th Century England engaged in aggressive attempts at expansion, especially under King Edward I, the "Hammer of the Scots." Scotland and France had a shared interest in controlling them, and in Paris on the 23rd October 1295, King John Balliol of Scotland and King Philippe le Bel of France signed a treaty for mutual military help against the English. The Alliance wasn't just a military one; it was based on a long-established friendship between the nations, not least founded upon the Scots' love of French wine in general, and Claret in particular.
A bourrée is a lively French dance similar to a gavotte, but faster. It is still played by many French traditional musicians.
---