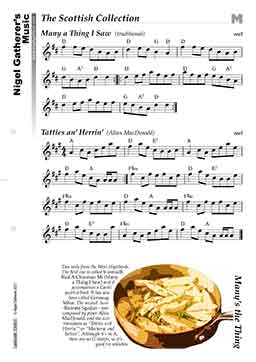 This set is part of the following collections:


Two reels from the West Highlands. The first one is called S'iomadh Rud A Chunnaic Mi (Many a Thing I Saw) and it accompanies a Gaelic puirt-a-buel. It has also been called Cenneag Mhor.
The second tune - Buntata Sgadan - was composed by piper Allan MacDonald, and the title translates as "Tatties and Herring" or "Mackeral and Tatties". Although it's in A, there are no G sharps, so it's good for whistles.
---