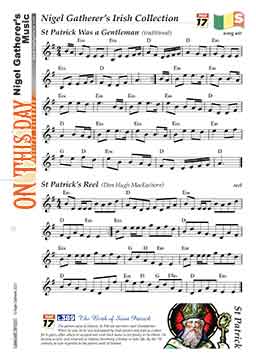 These tunes are part of the following collections:




St Patrick was a Gentleman is the title of a comic song written by Henry Bennett and John Toleken of Cork who were known to sing it on stage in 1814 or 1815. The tune given here is from an Irish songbook published in 1895 where it says that it's an "old Irish air". Nathaniel Gow published a tune called Mrs Wemyss of Cuttlehill which has several similarities.
St Patrick's Reel is actually fairly modern, composed by Cape Breton fiddler Dan Hughie MacEachern (1913-1996).
---