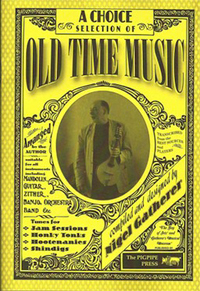 Published: September 2011 • Pages: 20 • Tunes: 34

Tunes in A Choice Selection of Old Time Music:
A & F Reel
Buffalo Gals
Clog in D
Cotton Eyed Joe
Dallas Rag
Deer Walk
Dry and Dusty
Ebenezer
Feed My Horse
Fiddler's Dram
Folding Down the Sheets
Get Off Your Money
Grover Jones's Waltz
Hare-Lipped Susie
Hell On the Wabash
Horses In the Canebreak
Little Princess's Footsteps

Monkey In the Dog Cart
Muddy Roads
Muskrat Rag
Old Jake Gillie
Old Molly Hare
Pretty Little Cat
Rusty Nail
Salt Creek
Soldier's Joy
Sweet Sixteen
Taylor's Quickstep
Trude Evans
Wagoner One-Step
Wednesday Night Waltz
West Fork Girls
White Rose of Texas
---
Old Time Music is sometimes called Hillbilly Music or String Band Music, but it's simply the folk music of America, a strain of music which I've loved for some thirty years. The best way to get to know the music is to play it, and listen to other people playing it. Oh, and it's fun, by the way - enjoy playing this wonderful, happy music.