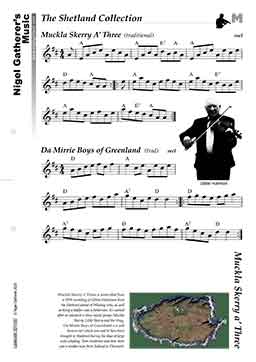 This tune is part of the following collections:




Muckla Skerry a' Three is transcribed from a 1999 recording of Gibbie Hutchison from the Shetland island of Whalsay who, as well as being a fiddler, was a fisherman. It's named after an island in a three island group: Muckla Skerry, Little Skerry and the Vong.
Da Mirrie Boys of Greenland is a well known reel which was said to have been brought to Shetland during the days of large scale whaling. The Shetland fiddler/collector Tom Anderson said that there was a similar tune from Jutland in Denmark.
---