---
This handy pocket-sized guide will be very useful to any mandolin player. Small enough to fit into any mandolin case, it starts with a description of how chords are constructed, and chord families. Then the chords are grouped in families according to keys; it's done like this so that if you're playing a tune in the key of G, for example, you go to the G page which shows you the main chords and then the subsidiary chords which will be used in that tune or song.
"This is by far the best beginners book of chord theory I've ever seen. Any of you that are beginners or teachers that have beginning students will really benefit from the very elegant little utilitarian guide." - Mike Stangeland
Available from my on-line store.
---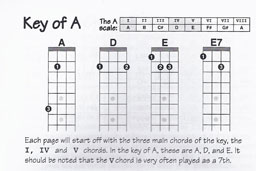 Contents:

How to Read Chord Charts
How Chords are Formed
Major Chords
Minor Chords
Seventh Chords
Chord Families
Key of A
Key of Bb
Key of C
Key of D
Key of E
Key of F
Key of G
"Chop" Chords
Notes on the Mandolin