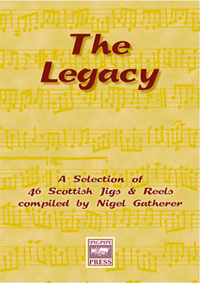 Published: July 2011 • Pages: 21 • Tunes & songs: 45

Tunes in The Legacy:
Atholl Braes
Ayr Races
Bab At the Bowster
Blair Athole
Breas of Busby, The
Bride's Reel, The
Bridge of Foss, The
British Hero, The
Brumley Brae
Countess of Loudon's Reel
Drink the Worts
Duke of Montrose, The
Farr-Away Wedding, The
Flowers of the Forest
Francis T Robertson
Hare Among the Corn, The
Hoop Her and Gird Her
I Love My Love
I Wish You Would Marry Me
James Soutar of Plains
John Howatt's Reel
Lachlan Dubh
Lady Mary Stopford

Lady's Plaything, The
Lasses of Dunse
Lasses of Hawick
Lasses of Melrose
Legacy, The
Mayen House
Merry Harriers, The
Miss Johnson of Hilton
Miss Margaret McLachlan
Miss Susan Campbell Monzies
Mr James Boswell's Jig
Mr Lindsay
Mrs McGee's Reel
New Kelvin Bridge, The
None Left At Home
Scots Jig
Soldier's Dance, The
St Kilda Wedding, The
Sward House
Swiss Cottage, Ballindalloch
Tailor's Shirt
What Should a Young Lassie
---
The Legacy was the first in a series of tunebooks I devised during the early 1990s to consist of a selection of Scottish tunes from various sources. For one reason or another, these books failed to materialise, but I recently came across a number of test pages which I'd made to judge the look and readability of the layout. I have now collected these pages and present a small, personal selection of tunes I've found and liked, and which hopefully you'll like too.
The book is digital, in PDF format and all tunes have guitar chords.