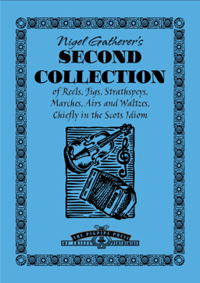 Published: March 2019 • Pages: 20 • Tunes: 40

Tunes in Nigel Gatherer's Second Collection:
Burning of Crieff
Burnside Cottage
Chris Grace's
Craigie Whistlers
Cray House Reel
Cray House Strathspey
Dagger Gordon's
David Williamson's
Dower House, The
Dunblane Cathedral
East End Hornpipe
Farewell to Craigroyston
Gathering Jig
Gathering Waltz
Glasgow Cathedral
Irene Anderson's
Islay Session
Jamie Laval's
Jane at Leslie's Bar
Jenn's Polka

John McGregor's
Kevin MacLeod's
Laval's Welcome
Leslie's Bar
Liberton Inn
MacRosty Park Bandstand
Mairi Robertson's
March of the GFW
Miss J Ludriecus
North Queensferry
Rebecca Knorr's Birthday
Scratchy Noises Jig
Scratchy Noises Polka
Shepherd of Glenartney
St Giles' Cathedral
Time for a Tunnock's
Turleum
Wee Jan, The
Whirlwind, The
Will Ye Nocht Dreed
---
I've always composed music, and some of my tunes have been played in sessions, recorded on CDs and used in teaching purposes. In response to many requests, I have now compiled many of these tunes into two publications, the grandly named Nigel Gatherer's First Collection of Reels, Jigs, Strathspeys, Marches, Airs, Polkas and Waltzes, and Nigel Gatherer's Second Collection etc, etc. I hope that my understanding and love of the idiom has meant that my tunes fit very much into the tradition - but that's not for me to judge.