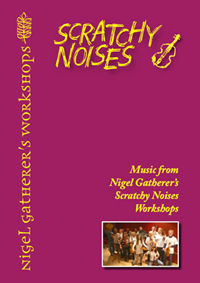 Published: December 2014 • Pages: 28 • Tunes/Songs: 50

Tunes in the Scratchy Noises Workshop Book:
A Man's a Man
Ae Fond Kiss
Afton Water
Ale Is Dear, The
Ashokan Farewell
Auld Lang Syne
Barrowburn Reel, The
Booth Shot Lincoln
Bloody Fields of Flanders
Boys of Blue Hill
Bulgarian Red
Ca' the Yowes
Colgrave Sound
Dark Island, The
Deil's Awa' wi' th'Exciseman
Dingle Regatta
Duke of Fife's Welcome
Eighth of January
Flowers of Edinburgh
Frosty Morning
Green Grow the Rashes O
Highland Harry
Highlander's Revenge
Hoch Hey Johnny Lad
Jimmy Ward's Jig
John Anderson My Jo

Kenmure's On and Awa'
Lea Rig, The
Little Liza Jane
Loch Lomond
Midnight On the Water
Milltimber Jig, The
Mrs MacLeod of Raasay
My Cape Breton Home
Parcel of Rogues
Ridee
Rope Waltz, The
Salt Fish and Dumplings
Sarah's Song
Staten Island
Stirling Castle
Thistle of Scotland, The
Walkin' in the Parlour
Waltz of the Little Girls
We're No Awa Tae Bide Awa
Whistle O'er the Lave O't
Wild Rose of the Mountain
Willafjord
Wind That Shakes the Barley
Ye Banks and Braes
---
Scratchy Noises are a group of learner musicians based in the Glasgow area, mostly students at the GFW traditional music organisation. I am privileged to have been invited to conduct several music workshops with the group, usually looking at a variety of music. The music for my workshops is usually available to download before the event. I have compiled this download-only book of many of the tunes I have done in previous SN workshops.