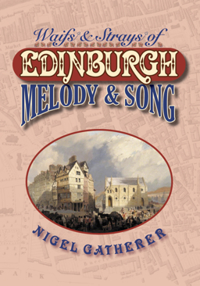 Published: March 2020 • Pages: 32 • Tunes & songs: 33

Tunes/Songs in Waifs & Strays Edinburgh:
As I Cam Doon the Canongate
As I Came in by Edinburgh Town
Auld Reekie (1)
Auld Reekie (2)
Bonnie Kate of Edinburgh
Caller O'u
Canongate Breeks
Caroline of Edinburgh Town
Colinton Dell
Craigmillar Castle Reel
Craigmillar Castle Strathspey
Cross Well of Edinburgh
Dalry House
Duncan Campbell
Edinburgh Colonel, The

Edinburgh Musical Fund
Edinburgh Review Waltz
Edinburgh Town Waltz
Gibbie and Marjorie
Highway to Edinburgh
Lads of Leith, The
Lassies o' the Canongate
Leith Wynd
Liberton Polka
Loyal Edinburgh Spearmen
Mally Leigh
Nicolson Street Hornpipe
North Bridge Hornpipe
Poor Daft Jamie
Princes Street Beau, The
St Giles Cathedral
Wells o' Weary, The
Wild Rover, The
---
Waifs & Strays of Edinburgh Melody & Song is available as a printed book, and soon will be available as a digital book. It's A5 size, and each tune and song has guitar chords indicated. The publication launches a planned new series of small books featuring songs and music from various locations.