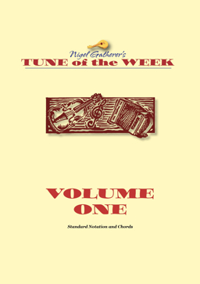 Published: January 2012 • Pages: 14 • Tunes: 20

Tunes in The Tune of the Week Book 1:
Cenneag Mhor
Mo Chaillein Dileas Donn
Johnny Murray of Lochee
Ray's Classic
Joan's Jig
Little Diamond
Jenny Lind Polka
Cro Cinn T-Saile
Cavehill
Banbury Bill
My Beautiful Mandolin Friend

Wi My Dog and Gun
Pretty Little Cat
Periwig, The
Drummond Castle
A Yowe Cam to Wir Door Yarmin'
New Five Cents, The
Hoch Hey Johnnie Lad/Lord Drummond
Wistfulness at Wiston
I Bhi Ada
---
The Tune of the Week was a feature on my forum The Gathering; I would choose a tune and post it, and people could learn it, play it or discuss it. I stopped it after 100 tunes when I realised that while thousands of people were looking at these posts, almost nobody commented. Oh well... Each tune is in clear notation with guitar chords, and each book is in PDF format.