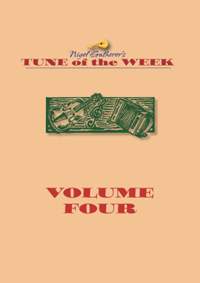 Published: January 2014 • Pages: 14 • Tunes: 20

Tunes in The Tune of the Week Book 4:
Willie MacGregor
Auld Rattray
The Dower House
The Brig o' Blair
Satchell's Waltz
Driving the Steers
The Farley Bridge
The Furrow's End
O'er the Muir to Ketty
The Duke of Montrose Strathspey

The Duke of Montrose Reel
Fife and A' the Lands About It
St Ninian's Isle
Sleepers Awake
Sally In the Garden
Jelly Well Spread
My Nannie O
Will Ye Nocht Dreed
Scalloway Voe
Feis Rois Jig
---
The Tune of the Week was a feature on my forum The Gathering; I would choose a tune and post it, and people could learn it, play it or discuss it. I stopped it after 100 tunes when I realised that while thousands of people were looking at these posts, almost nobody commented. Oh well... Each tune is in clear notation with guitar chords, and each book is in PDF format.