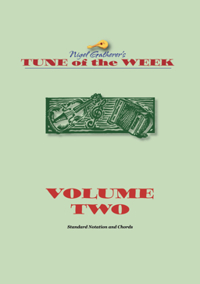 Published: March 2012 • Pages: 14 • Tunes: 20

Tunes in The Tune of the Week Book 2:
Jas Soutar of Plains
Swedish Schottische
The Music o' Spey
Song for the Samllpipes
Sonatina in G
Tigh na Gorm
The Lady's Plaything
The Tailor's Shirt
Reel Eugene
Patrick O'Connor's Polkas
By Dundas Loch

Welcome Christmas Morning
New Year's Day
Liberton Polka
Isaac a-Bell & Hugh the Graham
The Marquis of Lorne
Strathearn
John Clifford's No.1
The Ashplant
Dr J G Hunter of Aultbea
---
The Tune of the Week was a feature on my forum The Gathering; I would choose a tune and post it, and people could learn it, play it or discuss it. I stopped it after 100 tunes when I realised that while thousands of people were looking at these posts, almost nobody commented. Oh well... Each tune is in clear notation with guitar chords, and each book is in PDF format.