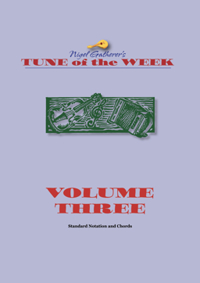 Published: March 2013 • Pages: 14 • Tunes: 20

Tunes in The Tune of the Week Book 3:
The Falls of Lora
Partans In the Creel
You're Welcome Home
Scotsman Over the Border
The Gathering Waltz
The Banks of Esk
The Cairdin' O't
John Carmichael's Farewell
Atholl Highlanders' March
The Gandzia Polka
The Burning of Crieff

The Crooked Road to Crieff
S Toigh Leam Fhin Buntata 'sIm
The Dimming of the Day
Mairi Robertson's Jig
Alistair's Jig
Letter to Peter Pan
Caber Feidh
Coilsfield House
J O Forbes of Corse
---
The Tune of the Week was a feature on my forum The Gathering; I would choose a tune and post it, and people could learn it, play it or discuss it. I stopped it after 100 tunes when I realised that while thousands of people were looking at these posts, almost nobody commented. Oh well... Each tune is in clear notation with guitar chords, and each book is in PDF format.