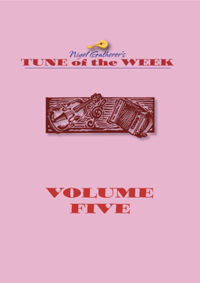 Published: September 2020 • Pages: 14 • Tunes: 20

Tunes in The Tune of the Week Book 5:
Dorothy Leur's Jig
David Gordon's Dagger
Kevin MacLeod of Auchterhouse
The Cas-Chrom
June's Reel
Salmon Tails Up the Water
Salt Creek
Gibby's Reels
The Spey in Spate
The Railway Hornpipe

Hannun Hambo
John MacDonald's Reel
Larry Redican's Jig
14th October
Bonny Lassie Take a Man
The Padlock
Maidens
Auld Reekie
Cropie's Strathspey
New Dawning, The
---
The Tune of the Week was a feature on my forum The Gathering; I would choose a tune and post it, and people could learn it, play it or discuss it. I stopped it after 100 tunes when I realised that while thousands of people were looking at these posts, almost nobody commented. Oh well... Each tune is in clear notation with guitar chords, and each book is in PDF format.